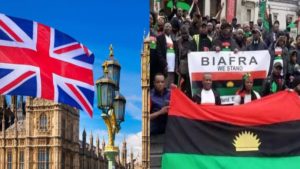 Reports have it that the United Kingdom has excluded members of the Indigenous People of Biafra (IPOB) and some other separationists from seeking refuge in their country.
According to the United Kingdom, its decision was a result of various reports of the group's criminal acts in Nigeria as they also added that the federal government has also tagged the Biafra IPOB as a terrorist faction.
The United Kingdom also imposed a ban on the Movement for the Actualisation of the Sovereign State of Biafra (MASSOB) and made this known through a document that reads;
"IPOB is proscribed as a terrorist group by the Nigerian government, and members of the group and its paramilitary wing – the Eastern Security Network (created in December 2020) – have reportedly committed human rights violations in Nigeria," 
"MASSOB has been banned but is not a proscribed terrorist group in Nigeria. It too has reportedly been involved in violent clashes with the authorities.
"If a person has been involved with IPOB (and/or an affiliated group), MASSOB, or any other 'Biafran' group that incites or uses violence to achieve its aims, decision-makers must consider whether one (or more) of the exclusion clauses under the Refugee Convention is applicable. Persons who commit human rights violations must not be granted asylum", the document added.