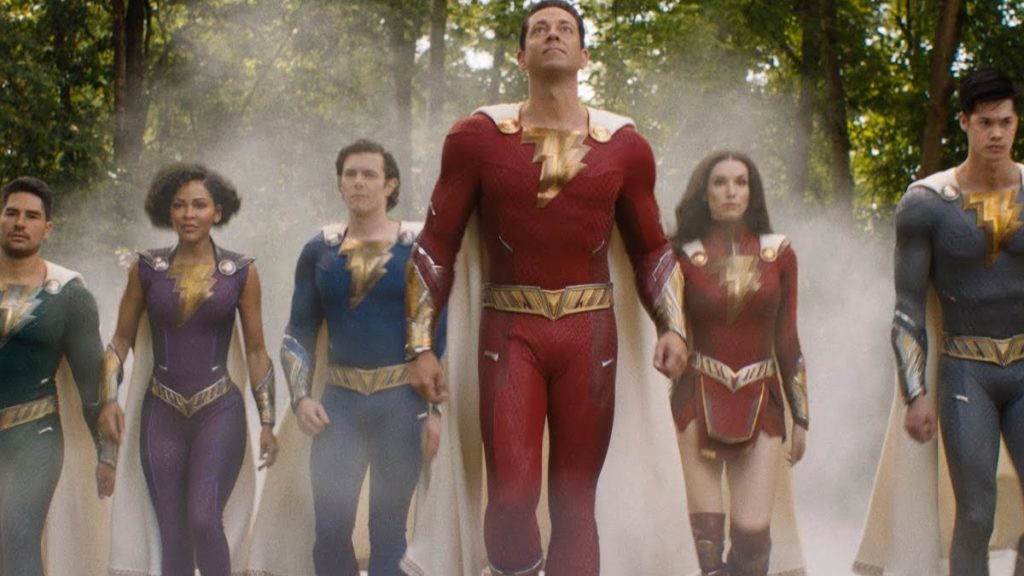 San Diego Comic-Con welcomed Warner Bros on Saturday, July 23, to intimate attendees about forthcoming DC Universe movies.
Among them, Shazam Fury Of The Gods, which opens in AMC theaters on December 21, will add additional fun for the whole family and a ton of greater action sequences to the studio's slate of comic book movies.
Watch the trailer of Shazam Fury Of The Gods Below:
Attending Comic-Con to discuss more were actors Zachary Levi, Asher Angel, Jack Dylan Grazer, Lucy Liu, and director David F. Sandberg.
This sequel to SHAZAM! will continue the theme of family, or as the panel put it, Billy's "Shazam-ily," which was the focus of the original film, which followed Billy Batson on his unexpected journey to finally finding a home to call his own.
Billy is no longer the only superhero in existence thanks to the events of SHAZAM!, which now features a superhero team with five more members than before. Zachary Levi hinted at how the super family would be continued this time.
Levi said that he thinks this feature of the movie really makes FURY OF THE GODS a story anchored in reality and what comes with growing up as a human—something we can all connect to. Seeing these grownup heroes for Billy's adopted family in the forms of Adam Brody, D.J. Corona, Meagan Good, Ross Butler, and Grace Fulton will undoubtedly be fascinating.
Using Shazam's magical staff, Lucy Liu entered the SDCC stage and immediately announced her power in the movie. Zachary Levi noted that it belonged to his character, but the actress claimed ownership of her presence by challenging the actor to a duel.
Given that Liu, Helen Mirren, and Rachel Zegler are three of the goddesses that the Shazamfamily will battle in Shazam! FURY OF THE GODS, it was the ideal way for Liu to enter Comic-Con.
In a humorous video message, Liu summoned her "sisters" with the staff, and Mirren teased kicking Shazam in the butt in a fight. The amazing action scenes involving our hero and these new fearsome adversaries are something we're looking forward to very much.
This December, we'll see Billy Batson furthering his heroism and potentially demonstrating to himself and the universe that he can hold his own while also solidifying his place on a larger superhero squad.
There is obviously a lot of affection for Shazam! And his potential among fans in the greater DC Universe. Shazam! himself is unsure of his place among other superheroes like Flash, Aquaman, Batman, or even his own Shazam-ily during the Shazam FURY OF THE GODS footage that was first exhibited in Hall H.
Fans imagined a scenario in which Shazam! would be a reality after 2019's SHAZAM! ended with Freddy Freeman receiving a surprise visit from the Man of Steel in the school cafeteria. Superman might appear on the screen as well.
Shazam Fury Of The Gods Release Date
Shazam Fury of the Gods is set for release in the United States on December 21, 2022.
Shazam! Fury Of The Gods Cast
Some of the notable cast in Shazam Fury Of The Gods includes Zachary Levi, Helen Mirren, Rachel Zegler, Adam Brody, Lucy Liu, Meagan Good, Grace Caroline Currey, Jack Dylan Grazer, Djimon Hounsou, P.J. Byrne, Abby Glover, Faithe Herman, Derek Russo, Ian Chen, D.J. Cotrona, Billy Batson, Marta Milans.