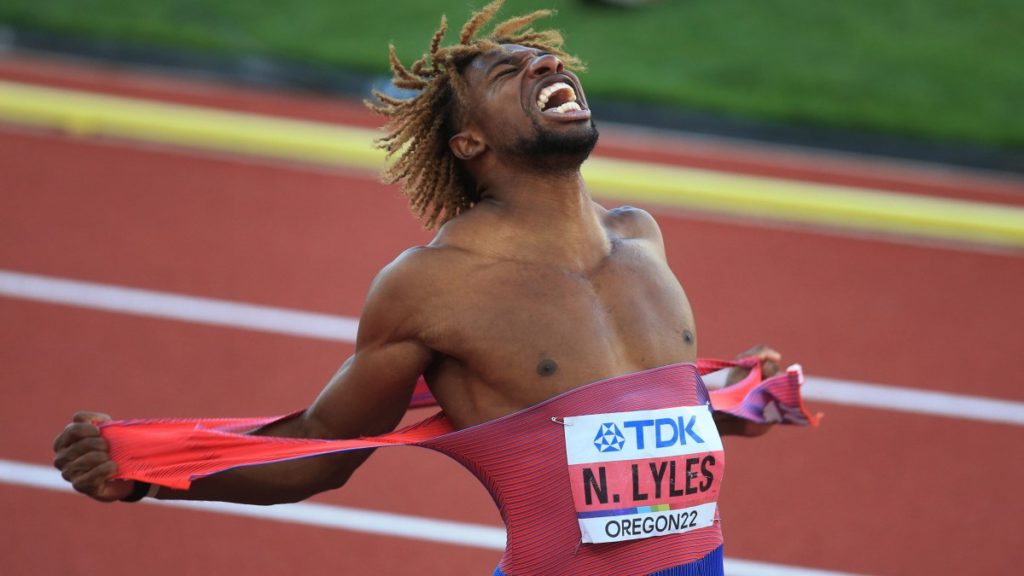 This season wasn't just about Noah Lyles trying to better his bronze-medal performance from the Olympics.
It wasn't only about stopping 18-year-old prodigy Erriyon Knighton, whose thrilling 19.49-second race on a Saturday afternoon in April made Lyles pull over, abandon his plans for supper (Thai cuisine), and return to his trade.
From the beginning, the goal was to run the 200-meter race in 19.31 seconds (or less) in order to beat Michael Johnson's American record. Johnson broke his own world record in one of the most renowned sprints in history by running the 200 meters in 19.32 seconds while wearing golden shoes in the 1996 Atlanta Olympics.
On Thursday night in Eugene, Oregon, the clock read 19.32 when Noah Lyles crossed the line in the 200-meter final of the world track and field championships.
When Noah Lyles turned to face the audience, he heard an additional roar in addition to the one that had previously greeted his decisive victory. His previous personal best in the event was 19.50.
Lyles was aware of an issue. A different scoreboard caught his attention, displaying what the spectators had noticed: his winning time had changed to 19.31, the target he had been working toward all season.
In track and field, it is typical for preliminary, unofficial finishing times to vary slightly due to electronic timing procedures.
"I didn't want it to say 32," Noah Lyles said. "I wanted my own time. Nobody wants to share a record."
Only Jamaicans Yohan Blake (19.26) and Usain Bolt (19.19) have run faster than Lyles, who was predicted to win gold at the Tokyo Olympics.
Lyles claimed that he didn't put any strain on himself this year, which was the difference between 2021 and 2022.
The championship race was expected to feature the two rising stars Lyles and Knighton going head-to-head, but Lyles won it before the straightaway by running his best curve ever.