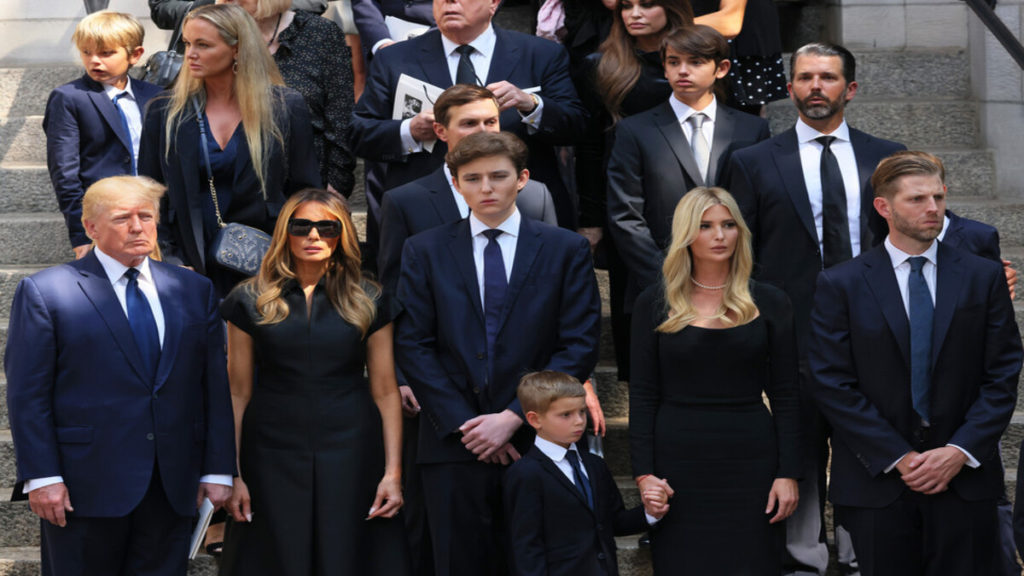 On Wednesday, mourners gathered in New York City's St. Vincent Ferrer Church to honor Ivana Trump, Donald Trump's first wife, who is credited with raising the businessman's profile to a status that helped open the door for his presidency.
"A very sad day, but at the same time a celebration of a wonderful and beautiful life," the former president wrote on Truth Social, his social media platform. He attended the funeral at the Catholic church with his current wife, former first lady Melania Trump.
Visitors entered the Manhattan church to pay their respects to the woman who created the moniker "The Donald" after Secret Service personnel searched them and checked their baggage outside.
Ivanka, Donald Jr., and Eric Trump, as well as their spouses and significant others, were in attendance. Tiffany, the daughter of Donald Trump's second wife Marla Maples, and Barron, the third son of Melania Trump, were also present.
In the 1980s, Donald and Ivana Trump were well-known, frequently serving as the faces of New York's social media. She assisted in managing several of the Trump hotels and casinos, and they were also business partners. The top pages of the city's tabloids featured their divorce, which occurred in 1992.
After an accident that left her with "blunt impact injuries" to her body, Ivana Trump passed away last week in her Upper East Side home. She was 73.
According to the medical examiner, Ivana Trump died from "blunt impact injuries."
Her desire to stand out in a city with fierce competition for attention is largely credited for bringing her ex-husband, a real estate tycoon at the time who occasionally dabbled in local and federal politics, millions of dollars. Together, they worked on projects like the Trump Tower on Fifth Avenue and their well-known Atlantic City casino ventures.