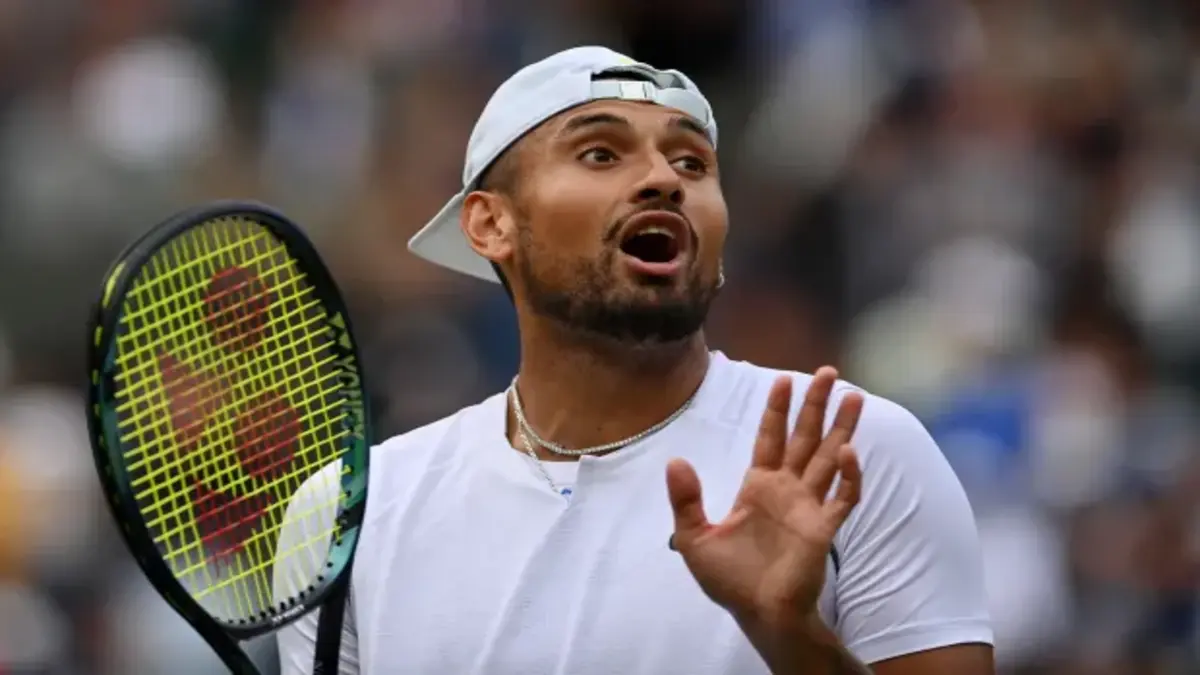 Are you stupid, Nick Kyrgios yelled at the Wimbledon chair umpire. He asked to speak with a Grand Slam official after criticizing Stefanos Tsitsipas' refusal to surrender their perpetually heated, never-boring match after the Greek player aggressively blasted a ball into the crowd after losing the second set.
Kyrgios was not pleased with the answer and enquired, "What are you talking about, bro?" After that, someone said, "Bring in more supervisors. I'm not finished. Bring everyone out. I could care less. I'm not going to play until we figure this out.
The narrator: He did play on Saturday. At the All England Club, the unpredictable, unseeded Kyrgios triumphed over No. 4 seed Tsitsipas by scores of 6-7 (2), 6-4, 6-3, and 7-6 (7) to go to the fourth round for the first time since 2016.
There was more, so much more, from the three shots that Tsitsipas purposefully fired directly at him to the underarm serves that Kyrgios made, including one between his legs. Chair umpire Damien Dumusois cited a total of three code violations, one against Kyrgios for an audible obscenity and two against Tsitsipas for ball abuse, each of which resulted in a point deduction.
Along the road, the players combined for 118 wins, which was excellent tennis. The entire match lasted 3 hours, 17 minutes, was nonstop and was completed so late that No. 1 Court's retractable roof was closed and the artificial lights were switched on halfway through the fourth set.
Tsitsipas had two set points to force a fifth set, but Kyrgios saved both of them by serving-and-volleying on his second serve and winning with a half-volley.
Australian Kyrgios, 27, roared after successfully converting his second match point with a drop shot. Kyrgios, who has twice reached a Grand Slam quarterfinal, has consistently demonstrated that level of talent.
On Saturday, Kyrgios sat in his chair and barked between nibbles of a banana during a changeover that occurred halfway through the fourth set. Was he yelling at an authority figure? at the individuals occupying his guest box? at one's self? Sometimes it's difficult to know with him.
The tournament penalized him $10,000 for his unsportsmanlike behavior during his first-round match, which he ended by spitting at a fan he said was heckling him. Of the 22 prize money fines imposed in Week 1, it is the largest.
His problems with Dumusois started in the first set when he demanded the removal of an official after becoming upset over a line judge's reversed call. Nothing happened.
Tsitsipas whacked a ball with his backhand towards the spectators after Kyrgios broke to take the second set. It appeared that the ball had ricocheted off a wall, although it wasn't exactly apparent if it had hit somebody.
Dumusois only issued a warning in response, which upset Kyrgios.
Kyrgios brought up the incident at the 2020 U.S. Open involving Novak Djokovic, who was ejected from a match after accidentally hitting a ball that struck a line judge in the throat. "You can't hit a ball into the crowd and hit someone and not get defaulted," Kyrgios said.