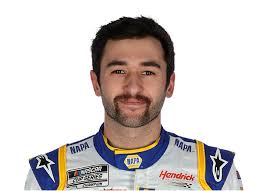 Yes, the NASCAR Cup season has been extremely unpredictable, with it appearing that anyone in the field might win.
One driver has become the undisputed front-runner amidst all the confusion.
The person everyone else is pursuing is Chase Elliott.
With a thrilling victory at his home track on Sunday, the 26-year-old made history by becoming the first Cup series winner to win three times. He did this by blocking Corey LaJoie just in time on the final lap to prevent him from becoming the most unlikely winner yet in a year full of surprises.
Elliott joined his father Bill as the only driver from Georgia to win at the storied circuit, adding another accomplishment to his already strong résumé with the victory at Atlanta Motor Speedway.
This led to a boisterous celebration in front of the main grandstand, where Elliott joined the fans in applauding the No. 9 Chevrolet's every move.
But putting feelings aside, it was yet another flawless performance by NASCAR's most reliable driver; performances like this are now more commonplace than exceptional.
The first two stages of the Atlanta event were won by Elliott. On the dangerous, high-banked course, he took the lead for 96 of the 260 laps, more than twice as many as the next driver.
The dangerous, steeply banked track. Finally, he aggressively slid up the track heading into Turn 1 to stop LaJoie from making the same move after passing LaJoie with little under two circuits remaining and took the white flag still in front.
LaJoie continued to accelerate despite having only one top-five result in his career, ran out of space, and collided with the wall. When the yellow flag was raised, Elliott immediately sped off without incident, knowing that he had won.