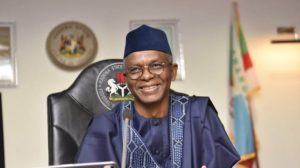 The ruling governor of Kaduna state, El-Rufai has warned its state residents about voting any candidate under the People Democratic Party (PDP) into any political office in the state.
El-Rufai claimed the party will bring a setback to the state and things will worsen than how they used to be. He declared this during an open-air program.
According to the governor, he said;
"Some people said that what we have done now cannot be reversed, wrong. A bad governor, a PDP governor can reverse this in six months.
Don't make the mistake of voting PDP back into office in 2023. If you do, things will go back to what they used to be. While we go through our process as APC and bring out a candidate and I endorse that candidate, please trust me that that person will be the better governor of Kaduna from 2023 and beyond"