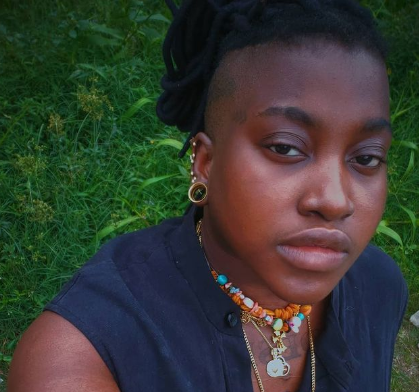 In a question and answer session on Instagram organized by former YBNL signee Temmie Ovwasa, she was asked by one of her followers if she hates or loves Olamide, her former record label boss, given their now broken relationship.
Temmie Ovwasa responded that she doesn't hate or love Olamide, but she sees him as part of her story. Temmie Ovwasa who still prides herself with the name YBNL princess, coined from her former Boss, Olamide's YBNL music record, said he was a reflection of a problem that was bigger than himself, adding that he treated her like a side dish.
Read Temmie Ovawasa aka YBNL Princess's full response on the question, do you hate Olamide or not?
"No actually, I don't have love for him
either. He's just another part of my
story, I've seen much worse.
I recognize that in a world that isn't
tainted by bias and Misogyny, we'd
probably still be cool.
What he did is a reflection of a
problem much bigger than him,
Misogyny.
You don't treat someone like that if
you see them as a full person.
I was a point he had to prove,
"Look at my label being so inclusive"
the odds were stacked against me
from the start, their little "princess".
Men open the "one woman seat" and
expect you to be grateful that they
even put you on.
I guess I didn't monkey dance hard
enough to retain my seat at the
table, I don't monkey dance for
anyone.
He treated me like you all treat
female artists, like an option, like a
side dish, like something you come
back to once in a while,
You all treat female creatives like
they come second to men.
You ask stupid questions about
fema entertainers during
interviews, questions you never ask
men.
I hate Misogyny."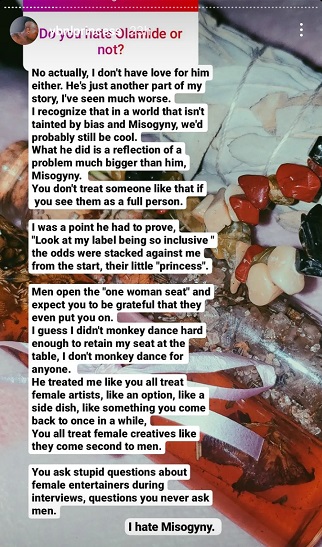 However, in a sharp twist, Temmie, who declared that she is a Lesbian and decried the harsh treatment been given to the gay community in Nigeria, said she hates heterosexuals.