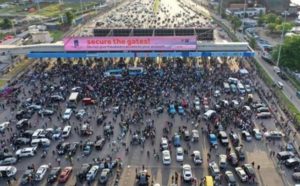 The Lekki toll gate will be shut down tomorrow to mark the memorial day of those that lost their lives in the #Endsars protest last year.
The Nigerian Rapper, Falz shared a notifier saying that the toll gate rally is to honor those who lost their lives on the 20-10-2020 during the protest.
He also stated that;
"We should all endeavour to stay in our vehicles all throughout the procession and also in groups for safety reasons.
"Please be sure to arrive on time so we can proceed in unity together,"
Falz also stated that it is impossible to forget our fallen heroes.