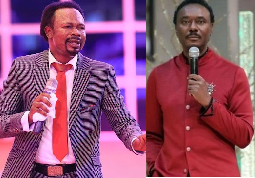 After Odumeje washed down Pastor Chris Okotie after he made his allegations on the truth about TB Joshua, Pastor Joshua Iginla is saying Chris Okotie has mental issues!
Iginla Joshua, while blasting Chris Okotie, said he cannot achieve what late TB Joshua achieved even if he lives up to a thousand years!
He further queried Chris Okotie if he was not trying to assume Christ by bearing his name "Chris" since he said the same about those bearing Joshua, Emmanuel, and referring to the synagogue church!
Watch the video below: