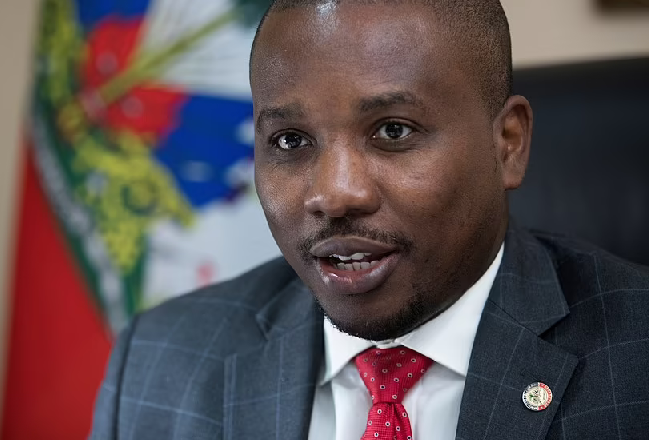 Haiti's President Jovenel Moise was assassinated at his home on Wednesday, by a group of assailants.
Prime Minister Claude Joseph who confirmed the incident described the attack as "Odious, inhumane and barbarous."

The statement did not specify who the assailants were but identified them to be Spanish-speaking people.

Haiti's first Lady was also not spared in the attack as she also suffered a gunshot injury during the ugly incident which occurred around 1 am at their home in the hills above Port-au-Prince.
The news shocked the world, as many top world leaders reacted to the assassination of the Haiti President, Jovenel Moise, condemning the gruesome act.

Haiti's ambassador to the United States of America said, she, the first lady is in a critical condition and efforts are underway to bring her to Miami for treatment.

World leaders have also sent condolences to the people of Haiti, calling for the need to ensure the assailants are brought to book.

Antonio Guterres, the Secretary-General of the United Nations condemned the attack on the President of Haiti and called for those responsible to be brought to justice.

Guterres called on all citizens of Haiti to preserve their constitutional order and remain united in the face of the abhorrent acts and reject all forms of violence.

Stephane Dujarric, the spokesperson to United Nations Organization said, "The United Nations will continue to stand with the Government and the people of Haiti."

The President of the United States, Joe Biden said, "We are shocked and saddened to hear of the horrific assassination of President Jovenel Moise and the attack on First Lady Martine Moise of Haiti."
Biden said the United States condemns the incident which he called a "heinous act" while praying for the First Lady's recovery.

Biden also said, "The United States offers condolences to the people of Haiti and we stand ready to render assistance as we continue to work for a safe and secure Haiti."

The Prime Minister of Britain, Boris Johnson said, "I am shocked and saddened at the death of President Moise. Our condolences are with the President's family and the people of Haiti. This is an abhorrent act and I call for calm at this time."

Justin Trudeau, the Prime Minister of Canada in his contribution strongly condemned the appalling assassination of the President of Haiti.
"Canada stands ready to support the people of Haiti and offer any assistance they need, " the Prime Minister said.